Classes are so much fun! I love them –  you meet new friends with similar interests, in a warm and friendly environment. Join Us!
Knitting Classes – we offer a number of Beginner, Beginner/Intermediate and Intermediate/Advanced classes, as well as a number of Technique Specific and Project Specific classes.
Pick a level that works for you. Beginners start with casting on, knitting & purling – and then move on to Ann Norling's Sampler Scarf pattern. All other folks bring in your projects and continue under expert tutelage.
Crochet Classes – Mary is one of our most talented instructors….  and oh so flexible! Do you have something you
would like to learn in crochet – she will work out a schedule with you to make it happen! She is always up for a challenge to "bring it on!" everything from beginners to the most advanced lacework, tunisian or any other project you can think of.
Rug Hooking –  is both an art and a craft where rugs are made by pulling loops of yarn or fabric through a stiff woven base such as burlap, linen, or rug warp. The loops are pulled through the backing material by using a crochet-type hook mounted in a handle (usually wood) for leverage. Cheryl teaches and guides all levels including our weekly Drop-in. Looking for a new craft – give this a try!
Rug Punch – The Punch Needle forms a continuous loop stitch. Every time you poke the needle down, it pushes down a long end of yarn. When you bring the needle back up, it folds this end into a loop. There are no knots used. The tightness of all the loops packed together keeps it from unraveling. You work from the back side of the rug, so as a novice keep turning over your work to check that your loops are all the same length on the front side of your work.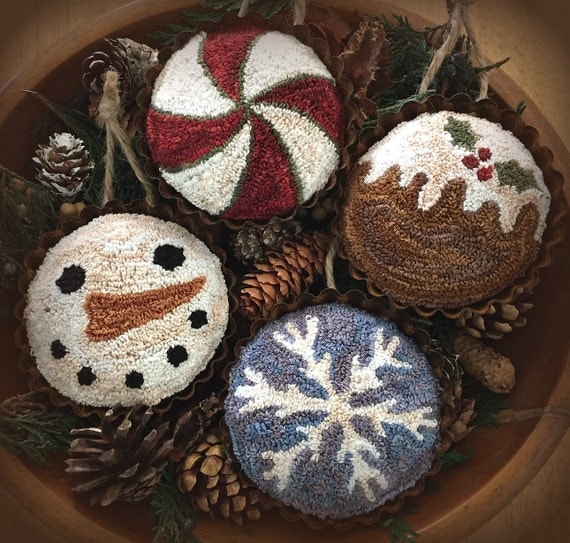 Needle Punch – Needle punching is a craft or art technique of looping yarn, floss or ribbon in the format of a pattern through fabric. The looping gives the pattern a rug like appearance. Very similar to Rug Punch but with embroidery threads instead of yarn.
Weaving – is a method of textile production in which two distinct sets of yarns or threads are interlaced at right angles to form a fabric or cloth. The longitudinal threads are called the warp and the lateral threads are the weft or filling. (Weft or woof is an old English word meaning "that which is woven".) The method in which these threads are inter woven affects the characteristics of the cloth.
The way the warp and filling threads interlace with each other is called the weave. The majority of woven products are created with one of three basic weaves: plain weave, satin weave, or twill. Woven cloth can be plain (in one colour or a simple pattern), or can be woven in decorative or artistic design.
Spinning – is an ancient textile art in which plant, animal or synthetic fibers are drawn out and twisted together to form yarn. For thousands of years, fiber was spun by hand using simple tools, the spindle and distaff.
Needle Felting – Using a single, barbed needle borrowed from commercial felting machines, wool fibers are tangled and compacted by repeatedly jabbing the needle into the fibers, forming three-dimensional felt sculptures bound only by one's imagination.  In contrast to traditional felt making methods that use water and friction, needle felting is also known as dry felting.